Clownfish or anemonefish are fishes from the subfamily Amphiprioninae in the family Pomacentridae. Thirty species of clownfish are recognized, one in the genus Premnas, while the remaining are in the genus Amphiprion. In the wild they all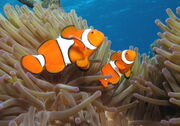 form symbiotic mutualisms with sea anemones. Depending on species, clownfish are overall yellow, orange, reddish or blackish, and many show white bars or patches. The largest can reach a length of 18 centimetres (7.1 in), while the smallest barely can reach 10 centimetres (3.9 in).
Clownfish feed on small invertebrates which otherwise potentially could harm the sea anemone, and the fecal matter from the clownfish provides nutrients to the sea anemone. Clownfish are omnivorous: in the wild they eat live food such as algae, plankton, mollusks, and crustacea; in captivity they can survive on live food, fish flakes, and fish pellets. Algae accounts for around 20 to 25 percent of its diet in the wild (and should also account for its amount of algae diet in captivity as well). The diet of the clownfish also consists of copepods, mysids, isopods, zooplankton and undigested food from their host anemones.